Join Hands with the Future of Cities to Achieve Win-win Cooperation
----Ministry of Foreign Affairs Holds Event Presenting Xiongan New Area
2018-05-31 00:09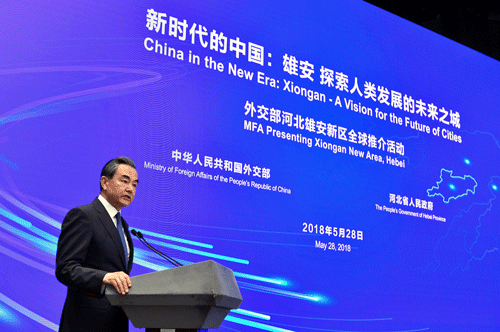 On May 28, 2018, the Ministry of Foreign Affairs held the 13th promotion event presenting Chinese provinces, autonomous regions and municipalities to the world under the theme of "China in the New Era: Xiongan-A Vision for the Future of Cities" at the Blue Hall of the Ministry. State Councilor and Foreign Minister Wang Yi attended the event and delivered a speech. Secretary of Hebei Provincial Committee of the Communist Party of China (CPC) Wang Dongfeng addressed the event, and Governor of the People's Government of Hebei Province Xu Qin gave the presentation. More than 500 people attended the event, including Secretary of the CPC Committee of the Foreign Ministry Zhang Yesui, diplomatic envoys and representatives from more than 160 countries and international organizations in China, delegates from industrial, commercial and business sectors as well as journalists.
Wang Yi said that Xiongan New Area is the first "enhanced version" of the Ministry's promotion event, which opens up a fresh outlook. There was a "Shenzhen speed" in the 1980s and a "Pudong miracle" in the 1990s. Xiongan New Area in the new era will become a national model for China's high-quality development in the future.
Wang Yi noted that the CPC Central Committee with Comrade Xi Jinping at the core announced the establishment of Xiongan New Area one year ago, stressing that this is a major millennium plan and a major state affair. The "Master Plan for Xiongan New Area" was published to the whole society this April, which marked the construction of Xiongan New Area has entered an overall implementation stage. Xiongan New Area represents the future of China, leads the global trend, and also indicates the development direction of mankind in future.
Wang Yi stressed that establishing the Xiongan New Area is a significant decision for China to deepen its reform. A large number of innovative measures for reform which conform to the future development direction will be first experimented and practiced in Xiongan, providing Chinese solutions to metropolitan maladies and striving to blaze a new replicable and applicable trail. The construction of Xiongan New Area will attract more international talents, technologies, capital, and projects, which will open up new space and provide new impetus for China to strengthen mutually beneficial cooperation with various countries. The construction of Xiongan New Area upholds the people-centered philosophy and harbors the common dream of harmonious development of mankind and cities. It is hoped that the diplomatic envoys and friends from all countries will pay attention to and support Xiongan, as well as participate in the construction of Xiongan, so as to work together with this city of future to achieve win-win cooperation.
| | |
| --- | --- |
| | |
Wang Dongfeng said that the planning and construction of Xiongan New Area in Hebei is a major and historical strategic choice made by the CPC Central Committee. The functional zoning and development goals of Xiongan New Area are to build a hub for relocating Beijing's non-capital functions, an innovative development demonstration zone which implements new development concepts, and a national model of promoting high-quality development, so as to build a high-level modern socialist city. The planning and construction of the New Area has made positive results at this stage. We will uphold the concept of "world vision, international standards, Chinese characteristics and high goals", make sure that the new development concepts go through the whole process of the planning and construction of Xiongan New Area, fully demonstrate the great achievements of socialism with Chinese characteristics in a new era, and ensure that people's dream for a better life will come true in this city of future. Xu Qin promoted the future vision of Xiongan New Area from five aspects: being green and ecological, innovation-driven, smart and intelligent, happy and livable, open and inclusive. He invited friends from all circles at home and abroad to share opportunities from Xiongan and jointly draw a blueprint for the New Area.
Ambassador of the United Kingdom to China Barbara Woodward, Singaporean Ambassador to China Stanley Loh Ka Leung, Italian Ambassador to China Ettore Francesco Sequi, and Senegalese Ambassador to China Mamadou Ndiaye delivered speeches successively and said that the international community pays high attention to China's visionary and major initiative to establish Xiongan New Area and appreciates the foresight and sagacity of President Xi Jinping and the high-quality development plan for Xiongan. They believe that China has the determination and ability to build Xiongan New Area into a new symbol of urban development worldwide and a new platform for international cooperation. They are willing to actively support and participate in the construction of Xiongan as ideal partners, as well as share experience and strengthen cooperation with China, so as to jointly build Xiongan, the pearl of future urban development.
| | |
| --- | --- |
| | |
Source: Official website of Ministry of Foreign Affairs of the People's Republic of China