Li Keqiang Attends the Eighth Trilateral Summit Meeting Among The People's Republic of China, the Republic of Korea (ROK) and Japan, Stressing to Join Hands to Promote Regional Development, Prosperity, Peace and Stability
2019-12-24 08:42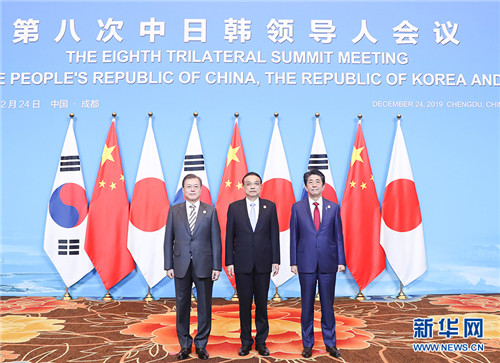 On the morning of December 24, 2019, Premier Li Keqiang, President Moon Jae-in of the Republic of Korea (ROK) and Prime Minister Shinzo Abe of Japan attended the eighth Trilateral Summit Meeting in Chengdu, exchanging views on trilateral cooperation as well as regional and international issues.
Li Keqiang expressed, over the past 20 years, our practical cooperation has kept growing in breadth and depth. We are each other's important partners for development: our economies are highly complementary and our industries deeply integrated. Despite facing twists and turns, we are committed to achieving win-win results through cooperation and tackling differences through dialogue. At the second China International Import Expo, President Xi Jinping called for joint efforts to build an open world economy through cooperation, with innovation and for mutual benefits. The future holds even bigger opportunities and broader prospects for the trilateral cooperation.
Li Keqiang made the following suggestions on deepening cooperation among the three countries.
--Solidifying mutual trust to uphold the larger interest of cooperation. We need to view each other's development in an objective and rational light. In the spirit of facing history squarely and shaping a brighter future, we need to respect each other's core interests and major concerns, stay focused on mutually beneficial cooperation, and keep to dialogue and consultation in addressing differences. This will create enabling conditions for deeper cooperation.
--Enhancing overall planning to set the direction for future cooperation. We need to be future-minded and plan our cooperation from a strategic and long-term perspective. We need to set out the direction and priorities of our cooperation, deepen practical cooperation and forge partnership.
--Accelerating FTA negotiations to boost regional economic integration. Our three countries are all staunch supporters of the RCEP. We need to make the agreement ready for formal signing next year as scheduled. We need to speed up the trilateral FTA negotiations and work for its early conclusion. A trilateral FTA with higher standards will bring about trade and investment liberalization and facilitation at a higher level.
--Boosting innovation cooperation to cultivate a new growth area. All three countries are major innovators with complementary advantages. We need to share the fruits of innovation and raise the capabilities to innovate..
--Increasing people-to-people exchanges to forge a closer bond of friendship. The three countries should enhance exchanges and cooperation in sports, the Olympic Games and youth.
--Carrying out cooperation in environmental protection to advance sustainable development. We need to intensify policy exchange and practical cooperation on health, aging and climate change with a view to bringing greater benefits and happiness to our people.
Li Keqiang pointed out, the current international landscape is undergoing profound adjustment. Our three countries must step up unity and cooperation in a spirit of mutual help and partnership. We must stand firmly by multilateralism and free trade, jointly address challenges and make contributions to regional and global prosperity and stability.
First, we need to jointly safeguard regional peace and stability. Realizing denuclearization and establishing a peace mechanism on the Peninsula is in the interest of all three countries. We need to continue to facilitate progress in the talks, properly address the legitimate concerns of all parties and push for the political settlement of the Korean Peninsula issue, with a view to achieving enduring peace and security of our region.
Second, we need to jointly apply a new vision of security. We need to follow a new vision of common, comprehensive, cooperative and sustainable security, and work for the security of the whole region proceeding from our common security interests. Moves to enhance security cooperation should neither target third parties nor undermine regional stability.
Third, we need to jointly pursue openness and inclusiveness. We need to keep with the principles of mutual respect, fairness, justice and win-win cooperation, safeguard free trade, promote the reform of the World Trade Organization and oppose "decoupling" and segmentation.
Fourth, we need to jointly drive regional cooperation. We need to strengthen coordination and collaboration in regional cooperation. We need to keep the focus of regional cooperation on East Asia and on development, and preserve and improve the existing East Asian cooperation architecture to better serve the needs of countries in this region.
Moon Jae-in said, the three countries have scored fruitful outcomes from practical cooperation, achieved common development and made important contributions to peace and development in Northeast Asia over the past 20 years. Against the backdrop of rising trade protectionism and increasing uncertainties, the three sides should closely work with one another, continuously expand common interests, actively carry out cooperation in areas including climate change, environment, health, and aging, focus on promoting cooperation in scientific and technological innovation, intensify the protection of intellectual property, enhance people-to-people and cultural exchanges, and consolidate the foundation of future-oriented cooperation. The ROK side is ready to work with related parties to promote the denuclearization of the Korean Peninsula and safeguard peace and stability on the Korean Peninsula.
Shinzo Abe said, trilateral cooperation has had an extraordinary journey over the past two decades. Standing at a new starting point, the three sides should pool their experience, chart a blueprint for cooperation in the next 10 years, and foster "triple win" relations. With time-honored history of people-to-people and cultural exchanges, the three countries should take the opportunities of successively hosting the Olympic Games and Paralympic Games to promote exchanges and cooperation in such areas as sports, tourism and culture. The three sides should deepen cooperation in environmental protection, aging, marine debris and other issues. Under the current situation, the Japanese side is willing to work with China and the ROK to safeguard free trade and multilateralism, as well as a fair, impartial and non-discriminatory investment and business environment.
The meeting released the Trilateral Cooperation Vision for the Next Decade and adopted outcome documents including the Trilateral + X Cooperation Early Harvest Projects.