Li Keqiang Attends the Opening Ceremony of the Taiyuan Energy Low Carbon Development Forum 2021 and Delivers A Keynote Speech
2021-09-03 14:52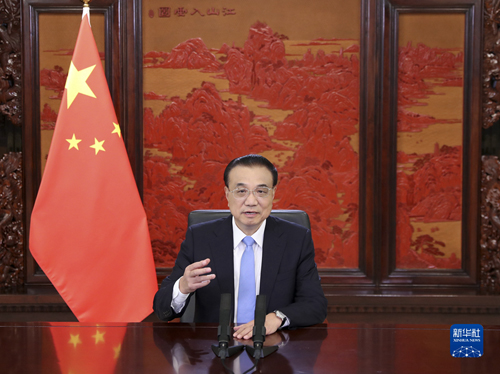 On September 3, 2021, Premier Li Keqiang attended the opening ceremony of the Taiyuan Energy Low Carbon Development Forum 2021, delivered a keynote speech and declared the opening of the Forum via video link.
Li Keqiang said, the Chinese government attaches great importance to high-quality development and tackling climate change. President Xi Jinping announced China's pledge to peak carbon dioxide emissions before 2030 and achieve carbon neutrality before 2060. In recent years, China has seen improving ecological and environmental quality amid efforts in pollution prevention, optimization of the energy mix and industrial structure, and intensified efforts to save energy and reduce emissions. Not long ago, China launched the world's largest carbon emissions trading market.
Li Keqiang emphasized that, as the COVID-19 pandemic is still ravaging around the world, coupled with emerging variants of the virus, instability and uncertainty in the global economy are on the rise, bringing grave challenges to the green and sustainable development of the world. In this difficult time, all countries should work together closely to ensure that development and green transformation go hand in hand, reinforce each other and facilitate the transformation and upgrading. Li Keqiang proposed three points in this regard:
First, we should uphold a scientific spirit and take a pragmatic attitude in rationally utilizing clean energy and pushing low-carbon transformation. All countries should respect and apply science to make all-out efforts to transform the structure of energy consumption and the way of production in a stable and orderly way. While controlling the overall amount, energy conservation should be given priority. We need to adjust the energy mix and increase the proportion of non-fossil energy in primary energy consumption. We need to pay attention to innovation, and strengthen cooperation in scientific research, technology transfer and results sharing in the field of clean energy. We need to renew concepts, advocate green and low-carbon production and lifestyle, and create a green and low-carbon society that everyone can contribute to and participate in.
Second, we should integrate the respective historical responsibilities with national conditions of different countries, to make efforts to continue to advance global climate governance. Developed and developing countries have different historical responsibilities for climate change, and different development needs and capabilities. We should maintain multilateralism and the principle of common but differentiated responsibilities, attach great importance to the concerns and demands of developing countries, and increase support in technology, funds and capability to assist them in achieving green and low-carbon energy transition.
Third, we should strengthen policy coordination and carry out structural reforms, while working together to achieve the balanced, green and sustainable recovery of the world economy. All countries should by no means return to the old way of heavy-pollution and high-emission development for post-epidemic recovery. We should properly deal with relations among economic development, ecological protection and the strength of macro policy, enhance the coordination of macro policies, push forward structural reform, cultivate and develop new engines of growth for balanced, green and sustainable recovery of the world economy at a lower cost.
Li Keqiang pointed out that China, as the largest developing country, is on track to accomplish socialist modernization by the middle of the century, and provide the Chinese people with a prosperous life while realizing low-carbon and green development. This is an unprecedented undertaking in human history and will require arduous efforts. We will uphold the new energy-security strategy, push reforms in energy consumption, supply, technology and mechanism, and strengthen international cooperation on all fronts to advance the energy transition practically. While implementing cross-cyclical macro policy adjustment, China will speed up the optimization and upgrading of the industrial structure by, on the one hand, curbing the scale of production capacity of high energy-consuming and high-emission industries, and, on the other hand, striving to develop energy-conserving and environmentally-friendly industries, injecting new impetus to the global economic recovery.
The forum is themed with "Energy, Climate, and the Environment". Ethiopian President Sahle-Work Zewde, Governor-General of Papua New Guinea Bob Dadae, Cambodian Prime Minister Samdech Techo Hun Sen, Prime Minister of Luxembourg Xavier Bettel, Sri Lankan Prime Minister Mahinda Rajapaksa and other foreign dignitaries also attended the forum via video link.